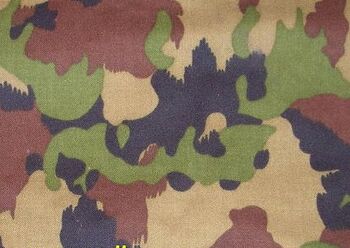 In 1990 a new uniform was issued as a replacement for the TAZ 83, officially designated the 
TAZ 90
 (or M92). This uniform was printed in a new coloration of the old drawings from the 1957 pattern. The colours for this pattern was chosen by the Eidgenössische Technische Hochschule in Zürich to suit the common natural surroundings found in Switzerland. This remains the standard camouflage pattern of the Swiss Armed Forces, and is printed in several types of uniform and field equipment.
Ad blocker interference detected!
Wikia is a free-to-use site that makes money from advertising. We have a modified experience for viewers using ad blockers

Wikia is not accessible if you've made further modifications. Remove the custom ad blocker rule(s) and the page will load as expected.