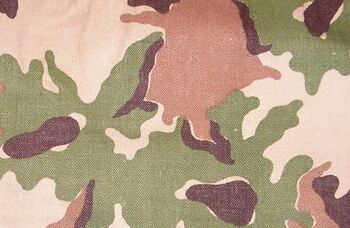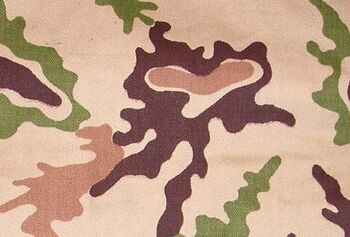 Introduced in the mid-1980s was a completely unique desert pattern, often nicknamed "scrambled eggs." The earliest variation has a much denser concentration of colorful shapes and is therefore generally termed "dense desert" pattern. Due to the limited number of surviving examples, it is theorized this dense version was fairly short-lived. The Egyptian desert (
scrambled eggs
) pattern was modified in the later part of the 1990s, giving it a much more sparse concentration of overprinted shapes. For this reason it is generally termed "sparse desert" pattern. As with the previously produced Egyptian camouflage patterns, there seems to be considerable variability both to the dye lots and the basic fabric color (background) employed when printing this design. At least four versions are known, with either sand/tan, pale green, pale blue, or medium grey background colors. Seen below are three of these variations, although it is certainly possible that others exist. Early versions of this camouflage initially appearing during the First Gulf War (Operation Desert Storm), but this continues to be a standard issue pattern for this nation. It has been exported and used by Somalia and Sudan.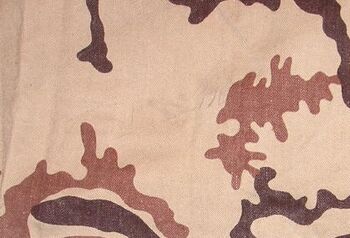 Another variation of "sparset" pattern contains no green elements at all. This version was certainly worn by Egyptian Forces during the First Gulf War, but surviving examples suggest it was a short-lived variation.
Ad blocker interference detected!
Wikia is a free-to-use site that makes money from advertising. We have a modified experience for viewers using ad blockers

Wikia is not accessible if you've made further modifications. Remove the custom ad blocker rule(s) and the page will load as expected.