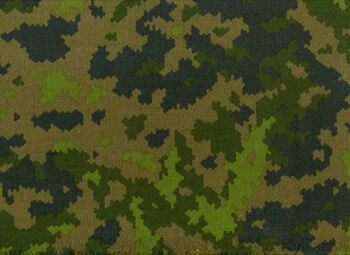 Beginning in 2003-2004, the Finnish MOD introduced a new combat uniform and a new series of camouflage patterns. The 
M05 Maastopuku
forest pattern is the standard temperate camouflage pattern of the Finnish Defence Forces. It is a blotchy or variegated pattern of black, olive green & apple green on an earth-tone base, and was originally manufactured for Finland by the Belgian firm Seyntex. All four patterns have been licensed by the Finnish Defence Forces and are not available for release to the public.
Ad blocker interference detected!
Wikia is a free-to-use site that makes money from advertising. We have a modified experience for viewers using ad blockers

Wikia is not accessible if you've made further modifications. Remove the custom ad blocker rule(s) and the page will load as expected.