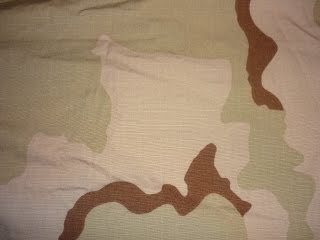 DCU was the second standard issue desert camouflage uniform of the United States Military from the early 1990s to the early 2000s, and is essentially the same design with a different pattern as the Battle Dress Uniform  (BDU) uniform of the United States Armed Forces, albeit featuring the three-color desert camouflage pattern of dark brown, mint green, and beige, as opposed to the pale green, dark/light brown, beige, and black and white rock spots of the Desert Battle Dress Uniform (DBDU).he DCU "coffee stain camouflage" was developed to replace the six color desert camouflage "chocolate-chip camouflage" uniform, which was deemed unsuitable for most desert combat theaters. As opposed to the original six color DBDU, which was meant for a rockier and elevated desert battlefield that was often not encountered and replaced the former DBDU, the DCU was meant primarily for a lower, more open, and less rocky desert battlefield space which became a common sight throughout the Gulf War campaign. The DCU and the BDU was phased out of use with the United States Army in 2005 by the Army Combat Uniform  (ACU); the United States Marine Corps in 2003 by the Marine Corps Combat Utility Uniform (MCCUU); the United States Air Force in 2011 along with the Woodland Battle Dress Uniform by the Airman Battle Uniform (ABU); and to some extent in the United States Navy, replaced by a Navy blue, Woodland and Arid versions of the Navy Working Uniform (NWU) in 2011 The United States Navy has authorized a replacement uniform of its own for the Navy Seals while maintaining it for other NECC ground units. For the time being, this uniform continues to be used by members of the United States Coast Guard when deployed to the Middle East.
Ad blocker interference detected!
Wikia is a free-to-use site that makes money from advertising. We have a modified experience for viewers using ad blockers

Wikia is not accessible if you've made further modifications. Remove the custom ad blocker rule(s) and the page will load as expected.