First tested in 1982-83, the original colors of the Australian Disruptive Camouflage Pattern (DCP) were slightly different from those finally released in 1984. DPCU was the first computer generated camouflage pattern. Uniforms are known officially as DPCU (Disruptive Pattern, Combat Uniform), and for this reason the term is also often applied to the pattern. Although there are some slight color differences depending on the manufacturer and the fabric, in general the pattern features orange, brown, dark 
olive & lime green spots on a khaki background.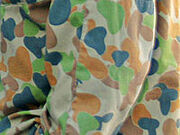 Several nicknames have also been applied to the pattern, including AUSCAM, "bunny cam" (as some of the shapes in the design look like rabbit caricatures), and OzCam.