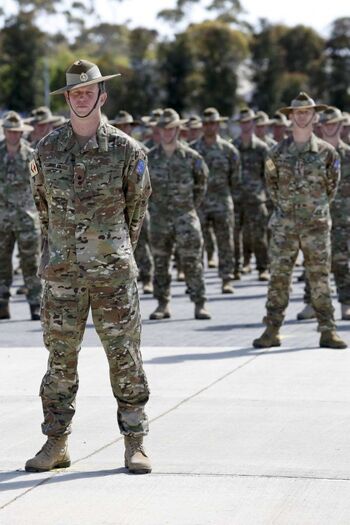 In late 2010 it was announced that Australian personnel deploying to Afghanistan would all receive US-produced 
Multicam
pattern camouflage uniforms, as it was determined this design had a higher performance rating than the DPCU . A variation of the pattern, developed specifically for Australian military personnel by Crye Industries and incorporating many of the "bunny" and "jellybean" features found in the standard DPCU (although reduced in size), will begin replacing commercial Multicam for troops deploying to Afghanistan in late 2012. The pattern also has a miniature Australian Military Forces (AMF) logo embedded into the design. The Australian Army website is referring to this design as Australian Multicam Pattern (AMP).
Ad blocker interference detected!
Wikia is a free-to-use site that makes money from advertising. We have a modified experience for viewers using ad blockers

Wikia is not accessible if you've made further modifications. Remove the custom ad blocker rule(s) and the page will load as expected.