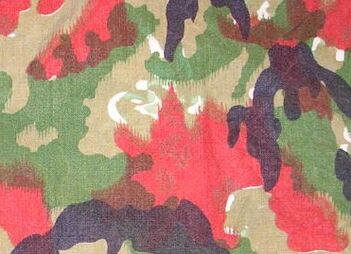 First seen between 1955 and 1957, the Swiss 
Leibermuster
 pattern is modeled after the 
German WW2
Leibermuster
 camouflage design of the Waffen SS. Some sources suggest the Swiss obtained original German WW2 era roller-printing machines through 
Czechoslovakia
, which is how they arrived at this particular camouflage pattern.
 The Swiss pattern appears in many guises and color combinations, particularly variations in the dominant background color. The original combat uniform in this pattern is designated the 
TAZ 57
 (from the German 
Tarnanzug
) or TASS 57 (from the French 
Tenue d'assaut
), both meaning Combat Uniform (model) 1957.
 The first model (below, left) was made of lightweight canvas and featured a lighter coloration than the second model (below, right), fabricated from a heavier weight twill and reinforced in some places with waterproofed vinyl fabric. This design also appeared on 
zeltbahn
 (shelter halves,)
panzerkombi
 (overalls for vehicle crews) and helmet covers. The early Swiss camouflage pattern is often called 
Alpentarn
 or 
Alpenflage
 by historians and collectors.